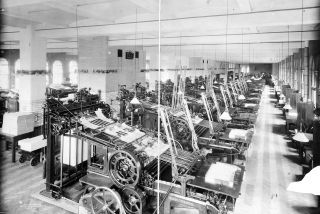 We utilize the most current technology in our industry. Our state-of-the-art equipment allows us to provide our clients with high-quality products faster and, in many cases, less-expensively than our competition.
Pre-Press
Computer to Plate- Now among the most common industry work flow. This improves efficiency's and helps us improve turn-around time, so that you get your project in your hands sooner.

Mac and PC Capabilities- We can take Mac files produced in all major software graphic formats. For the PC we accept PDF, EPS, TIFF, and JPG files in high resolution (300 dpi or higher) as well as native Photoshop and Quark files.

We DO NOT work with Microsoft Publisher files, but you can always convert it to a PDF.
Digital Printing
Xerox Digital Press- High quality and fast turn around for all your color and/or black & white projects. Saddle-Stitch Finisher, Folding Unit with hole punch and post-process insertion, and Stapling Finisher.
Traditional Printing
Letter Press- To provide you complete "in house" finishing solutions for numbering, imprinting, and perfing.
Also, specialty finishing services like foil stamping, embossing, debossing & die cutting.

Offset Press- Our offset printing presses provides our clients with options for a single color project all the way up to four color process printing. With our equipment and personnel, we promise to deliver the highest possible quality and efficiency for your projects.
Finishing
Bindery- Our full service in-house bindery has automated folding and gluing for items such as presentation folders, boxes and various other promotional/identity items. Automated collating, saddle and side stitching, spiral binding, folding, and hole punching.